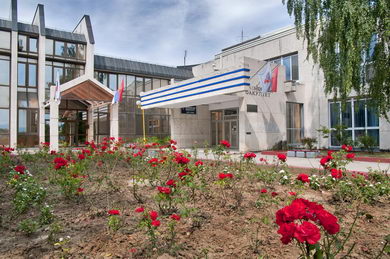 Devised to be a source of knowledge, skills and competences in the field of economics and arising from consideration of current and future needs of Central Serbia's social and economic life, the Faculty of Economics in Kragujevac was established in 1960 as a department of the Faculty of Economics, University of Belgrade. On December 16th 1975, after fifteen years of intensive development, the Faculty grew into an independent institution. Since May 21st 1975 the Faculty of Economics has been, along with eleven other faculties, a constituent part of the University of Kragujevac. The first postgraduate studies were established in academic year 1977/1978. According to the Decree of Accreditation and Quality Assurance Commission of Higher Education Institutions from January 30th 2009, the Faculty of Economics, University of Kragujevac has been given the Certificate of accreditation of the institution and study programs for all three cycles of studies.
Since its establishment the Faculty has strived at creating an important position in the country and the region by educating economists, managers, and also through encouraging scientific work of its staff who conducted their research projects in the field of fundamental and applied research. With this aim, curricula have been improved in order for them to be aligned to the latest scientific and educational trends of the contemporary world. The teaching staff have participated in this ongoing improvement contributing to their own professional development and the growth of their own potentials.
During the past years over 8.000 students have graduated, 176 have completed an M.Sc. degree and 57 have obtained a PhD degree.
Besides the students who are the biggest potential of the Faculty of Economics, this institution can also pride in competent staff. The teaching process at the Faculty of Economics is performed by 80 teachers and teaching assistants who currently educate more than 3.800 students distributed across Bachelor, Master and PhD programs having all necessary conditions to study and enjoy their student days.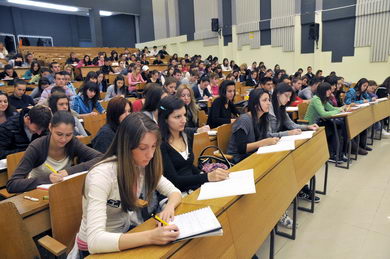 The Faculty's library includes about 50.000 volumes that cover domestic and foreign books, scientific monographs, primary and reference publications, manuals, domestic and foreign periodicals, Master theses, doctoral dissertations, specialist papers and student term papers. The Faculty is subscribed to 62 domestic and 25 foreign scientific magazines. The Library also has a reading room accommodating 150 students.
The Faculty has facilities with modern equipment, such as three computer rooms for Bachelor studies, a computer room for Master and PhD students, a classroom of the Center for Lifelong Learning, a video-conferencing room, the academic network and the Internet café, as well as the student restaurant.